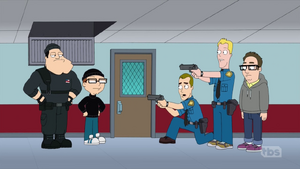 Theodore is a security officer at N.S.A. Headquarters. When confronted by Stan Smith in "N.S.A. (No Snoops Allowed)", Steve points out that he is with the CIA, causing Theodore to flee in terror as the supervisor Nat, groans in frustration.
Theodore is voiced by Jason Mantzoukas.
Ad blocker interference detected!
Wikia is a free-to-use site that makes money from advertising. We have a modified experience for viewers using ad blockers

Wikia is not accessible if you've made further modifications. Remove the custom ad blocker rule(s) and the page will load as expected.