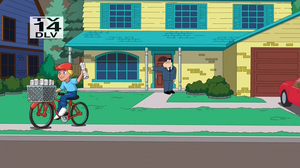 Thompson Brand Miniatures are the brand of miniature figures specifically endorsed by Dr. Ray Petit to Stan in "The Shrink" to restore his feeling of control following a near-death experience, insisting that other brands would damage his brain, and not due to the fact that he was a shareholder.
The people figurines include Timmy, the paperboy who always leave Stan's plastic newspaper in the bushes, which Stan takes with humor for the moment, but considers that a continuation might make him angry. Constable George and Grocer Joe, who Stan notes that some people recognize it as the same figure with a different paint job, but to him, they are unique. And Rita the meter maid.
The town and transportation is also by Thompson, including the train, a magnet-operated skating rink, a theater designed to use a real iPad to show movies and the town hall which is vaguely modeled after the one in Back to the Future, but is just different enough to evade copyright issues. Stan does claim that his model band shell is a real one that he shrank just like Superman's arch enemy Lex Luthor.
Ad blocker interference detected!
Wikia is a free-to-use site that makes money from advertising. We have a modified experience for viewers using ad blockers

Wikia is not accessible if you've made further modifications. Remove the custom ad blocker rule(s) and the page will load as expected.