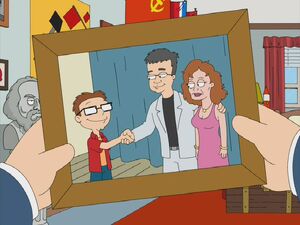 Timothy Francis "Tim" Robbins is an American actor, screenwriter, director, producer, activist and musician. He is the former longtime partner of actress Susan Sarandon. He is perhaps best known for his roles as Nuke in Bull Durham, Andy Dufresne in The Shawshank Redemption, and as Dave Boyle in Mystic River, for which he won an Academy Award for Best Supporting Actor.
Stan takes a picture of Susan Sarandon and Tim Robbins with Steve as proof that he's turned to communism in "Red October Sky".
Ad blocker interference detected!
Wikia is a free-to-use site that makes money from advertising. We have a modified experience for viewers using ad blockers

Wikia is not accessible if you've made further modifications. Remove the custom ad blocker rule(s) and the page will load as expected.