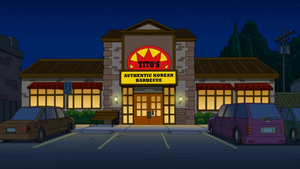 Tito's is a Korean BBQ restaurant that Hayley agrees to meet with Millionaire Matt Davis for a date in "The Longest Distance Relationship".
After being pressured by her family to move on past Jeff Fischer who shows no sign of being able to find his way home from deep space, Hayley mets with Matt who arrives at the restaurant riding a bull from a rodeo and proceeds to shoot it and slice a steak right off. As they converse and flirt, Matt presents tickets for adventures around the world and Hayley agrees to travel with him. But when she starts to explain about Jeff, the bull bolts from only being stunned by the shot and charges out of the restaurant, smashing Klaus' used Saturn he had just purchased at a car dealership.
Ad blocker interference detected!
Wikia is a free-to-use site that makes money from advertising. We have a modified experience for viewers using ad blockers

Wikia is not accessible if you've made further modifications. Remove the custom ad blocker rule(s) and the page will load as expected.