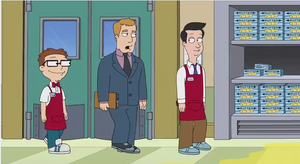 Tom is the manager at the Red State Grocery who promotes Steve is assistant manager in "Permanent Record Wrecker".
While doing a walk-through with a regional manager, they discover that Stan stacked butter next to a heating vent due to there not being enough room on the shelf, causing it to melt. Stan blames it on poor training by Steve to get him in trouble, which Tom joins in the criticizing of Steve.
As they look on, a mother pushing her child Joshua slips in the butter, causing Joshua to careen through the store and crash upside down into a display of habanero salsa. A jar of the salsa ignites, causing Joshua's shopping cart car to burst into flames and explode. Steve is fired as a result of Stan's sabotage.
Stan passes Tom at the grocery while naked in a shopping cart, pretending to paddle a boat while mentally banishing everyone in "Morning Mimosa".
He admonishes Cindy for using the store PA system after being fired in "Seizures Suit Stanny", although as a customer, she points out that she doesn't have to go anywhere on his orders anymore.
He is listed as a possible owner of the mineral rights under the Smith property in "Mine Struggle". Stan also works for him briefly in a convenience store in "Gifted Me Liberty".
Tom is voiced by Josh Fadem.
Ad blocker interference detected!
Wikia is a free-to-use site that makes money from advertising. We have a modified experience for viewers using ad blockers

Wikia is not accessible if you've made further modifications. Remove the custom ad blocker rule(s) and the page will load as expected.