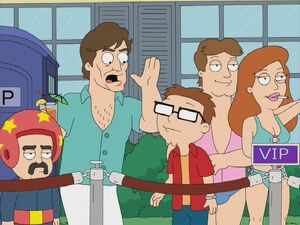 Tom Berenger is an American actor known mainly for his roles in action films. Berenger's film career peaked in the 1980s with notable films like The Big Chill, Someone to Watch Over Me, and Major League. In 1986, he received an Academy Award nomination for his portrayal of SSG. Barnes in Platoon. In the mid-1990s he was most recognizable in his role from the movie Sniper. Other notable films from that period include Shattered, Sliver and Chasers.
Tom Berenger appears at Roger's Spring Break party in "Spring Break-Up".
Ad blocker interference detected!
Wikia is a free-to-use site that makes money from advertising. We have a modified experience for viewers using ad blockers

Wikia is not accessible if you've made further modifications. Remove the custom ad blocker rule(s) and the page will load as expected.