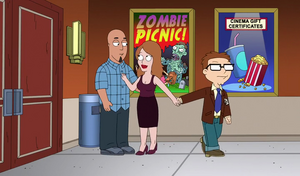 Tony is the bad-boy boyfriend of a girl that hires Steve to pose as her "good-boy" boyfriend to fool her parents in "Gifted Me Liberty".
After Hayley and Klaus drop Steve and another girl off at the cinema for her bad-boyfriend, Tony's date is picked up, and Steve smooths her lipstick for her as her parents arrive to pick her up. Tony is later reported ill when Steve's handkerchief is found to be loaded with a deadly virus.
Ad blocker interference detected!
Wikia is a free-to-use site that makes money from advertising. We have a modified experience for viewers using ad blockers

Wikia is not accessible if you've made further modifications. Remove the custom ad blocker rule(s) and the page will load as expected.