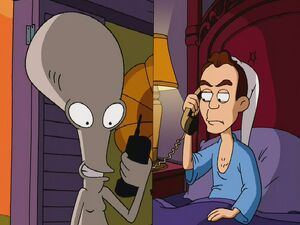 Anthony Charles Lynton Blair (born 6 May 1953) is a British Labour politician, who served as the Prime Minister of the United Kingdom from 2 May 1997 to 27 June 2007. He was the Member of Parliament for Sedgefield from 1983 to 2007 and Leader of the Labour Party from 1994 to 2007.
When Steve and Roger recover Dick Cheney's Blackberry in "Bullocks To Stan", they use it to prank call world leaders including Tony Blair.
Ad blocker interference detected!
Wikia is a free-to-use site that makes money from advertising. We have a modified experience for viewers using ad blockers

Wikia is not accessible if you've made further modifications. Remove the custom ad blocker rule(s) and the page will load as expected.