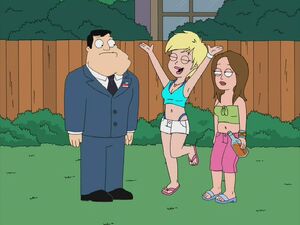 Tracy is Jessica's friend from Rutgers University. In "Spring Break-Up", she drunkenly dismisses Stan while Jessica convinces him to get into the spirit of things. She becomes even more snarky when Stan follows Jessica to Rutgers to try to convince her to come back and keep partying. She even one-ups Stan and Francine when Stan introduces Francine as a senior and she responds with "Yeah, senior citizen".
Tracy appears with best friend Jessica in "May the Best Stan Win", "100 A.D." and also appears looking at Andy Dick in the mall in "You Debt Your Life".
She also appears on the beach in "Killer Vacation".
Tracy is voiced by Missi Pyle.
Ad blocker interference detected!
Wikia is a free-to-use site that makes money from advertising. We have a modified experience for viewers using ad blockers

Wikia is not accessible if you've made further modifications. Remove the custom ad blocker rule(s) and the page will load as expected.