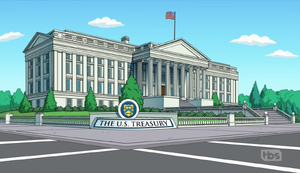 The Treasury Building in Washington, D.C. is a National Historic Landmark building which is the headquarters of the United States Department of the Treasury. An image of the Treasury Building is featured on the back of the United States ten-dollar bill.
Stan leads Hayley and former President James A. Garfield on a tour of the building, expecting him to help teach her about history such as his bi-metal monetary system of silver and gold. Instead, he is more fascinated with a television hanging in the building. Bored with Stan, he takes up Hayley's suggestion of ditching the history tour to go out to a movie.
Ad blocker interference detected!
Wikia is a free-to-use site that makes money from advertising. We have a modified experience for viewers using ad blockers

Wikia is not accessible if you've made further modifications. Remove the custom ad blocker rule(s) and the page will load as expected.