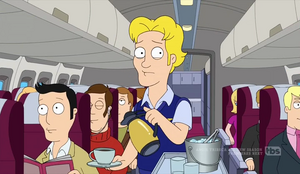 Trevor is a Southwest Airlines flight attendant that works with Roger in "Whole Slotta Love".
When Roger takes a flight attendant job in order to score laughs, he jokes about female flight attendants, and while acknowledging Trevor, admits that he told him in confidence that he identifies as female as well, which draws a look of concern from Trevor.
Ad blocker interference detected!
Wikia is a free-to-use site that makes money from advertising. We have a modified experience for viewers using ad blockers

Wikia is not accessible if you've made further modifications. Remove the custom ad blocker rule(s) and the page will load as expected.