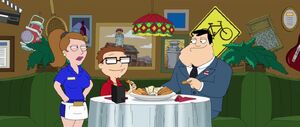 Trish is a waitress at Applebees.
Avery Bullock, Stan Smith and other agents go to lunch at Applebees in "N.S.A. (No Snoops Allowed)" where Bullock points out that she is a sassy single mother. When Steve and Stan go out to bond after raiding N.S.A. Headquarters, she teases them about leaving Steve as a tip. After the guys laugh at her little joke, her mood changes and notes that the guys failed to leave her a tip the prior time they were there.
Ad blocker interference detected!
Wikia is a free-to-use site that makes money from advertising. We have a modified experience for viewers using ad blockers

Wikia is not accessible if you've made further modifications. Remove the custom ad blocker rule(s) and the page will load as expected.