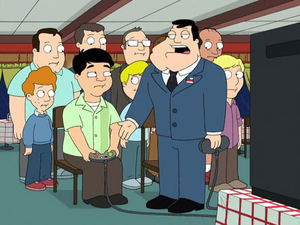 Trung is the runner-up in the Beetman video game contest against Stan in "Stan Time". When Stan starts taking pills invented by the CIA to stay awake at night so he can have some personal time, he becomes addicted to the video game Beetman and participates in the regional championships held at Pizza Overlord, beating Trung. While enjoying his personal time, Stan manages to drive away Francine. Stan starts to tease Trung about loosing when he sees him hug his wife, but when he sees Trung and the other people in the restaurant in love, he realizes how much Francine means to him.
Ad blocker interference detected!
Wikia is a free-to-use site that makes money from advertising. We have a modified experience for viewers using ad blockers

Wikia is not accessible if you've made further modifications. Remove the custom ad blocker rule(s) and the page will load as expected.