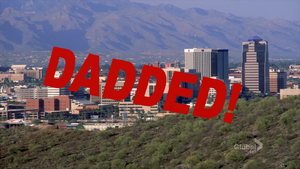 Tucson is the county seat of Pima County, Arizona, United States. Tucson is the second-largest populated city in Arizona behind Phoenix, which both anchor the Arizona Sun Corridor. The city is located 108 miles (172 km) southeast of Phoenix and 60 miles (98 km) north of the U.S.-Mexico border. Tucson is the 32nd largest city and the 52nd largest metropolitan area in the United States.
The original drill sergeant in "With Friends Like Steve's" snarkily comments that they ain't at a Denny's restaurant in Tucson on Steve's birthday when Steve wants to know where they are.
Steve mentions that a war reenactor friend was heading to Tucson on business in "In Country...Club".
When Roger is looking for his spaceship parts in "Rapture's Delight", he holds up a sweatshirt that says "Hard Rock Cafe Tucson".
Tucson is the subject of a cutaway when Stan Smith points out unnecessary things in "American Stepdad". For suffering the insult, Tucson is branded as being "Dadded!".
Ad blocker interference detected!
Wikia is a free-to-use site that makes money from advertising. We have a modified experience for viewers using ad blockers

Wikia is not accessible if you've made further modifications. Remove the custom ad blocker rule(s) and the page will load as expected.