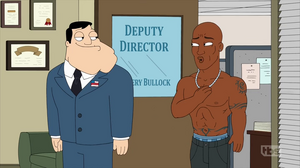 Tyrese Darnell Gibson (born December 30, 1978) is an American Grammy-nominated R&B singer-songwriter and actor known for his roles in the The Fast and the Furious films.
Tyrese provides his own voice in "The Devil Wears a Lapel Pin" when he is hired by the CIA to appear in Stan's cheesecake calendar project. He tries to take the CIA job seriously, reporting that he has found a lead on a terror suspect, only to be brushed off and put back to work in the photo shoot. Gibson goes undercover to try to get closer to his subject, but his cover is blown when Hayley and Jeff expose him while trying to retake the pictures after destroying the originals.
He is one of the nominees for 'Best Seduction' at the 70th Annual CIA Awards in "Casino Normale", in which he tries to extract secrets by seducing an elderly woman.
Ad blocker interference detected!
Wikia is a free-to-use site that makes money from advertising. We have a modified experience for viewers using ad blockers

Wikia is not accessible if you've made further modifications. Remove the custom ad blocker rule(s) and the page will load as expected.