Welcome
Hi, welcome to American Dad Wikia! Thanks for your edit to the Rapture's Delight page.
Please leave a message on my talk page if I can help with anything! -- Buckimion (Talk) 03:56, December 14, 2009
Importing templates
Not all templates can be imported from Family Guy. I am not at all happy with that chunk that is missing with the DVD template, something that has stopped me from importing other templates. If that can't be fixed, there is no use in having the pages added as they are redundant to the info on the episode guide page for the most part anyways and look like crap. --Buckimion 21:17, April 17, 2011 (UTC)
since we already have a Christmas category, is the Holiday one needed or should they be merged? --Buckimion 23:36, October 11, 2011 (UTC)
song
You seem to specialize in these things...what do you make of this video and where do we put it? "Girl You Need A Shot (Of B12)" --Buckimion 10:10, March 17, 2012 (UTC)
If the Glover fits...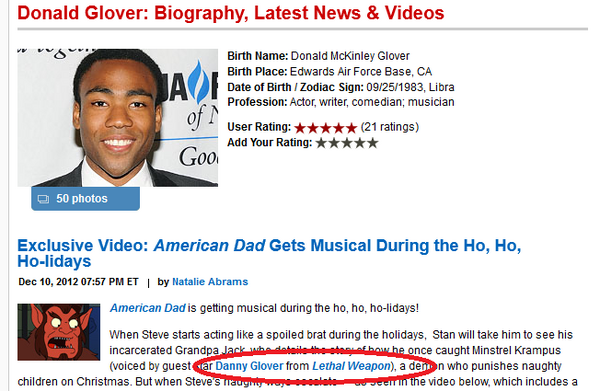 I think TV Guide is confused. Following the bio link for Donald is a blurb showing DANNY as the voice. I'm more inclined to trust the Comic Con announcement and FOX press release. --Buckimion (talk) 01:36, December 11, 2012 (UTC)
There is no proof yet that Nancy provides the voice of Bart in "Faking Bad". Wait for the credits. --Buckimion (talk) 03:12, December 3, 2013 (UTC)
Do not alter the OFFICIAL description once posted. Link to source in your summary and you may list the character. --Buckimion (talk) 19:36, September 19, 2014 (UTC)
Jesus H. Christ
After all this time don't you know about putting episode titles in Quotation marks? --Buckimion (talk) 02:11, October 28, 2014 (UTC)
What'd I do now?
I snapped. I've got a dumbass Brit making his own DVD pages and three football games on. --Buckimion (talk) 03:41, November 16, 2014 (UTC)
Season count discussion
Do you care to weigh in on possibly switching the season counts to the short first season method? The details are on my talk page, but the short of it appears that TV Guide and MSN have decided to change over recently to follow what now passes as the "official" page on TBS claiming it as "Season 12". TBS PR last listed it as 11, but they don't seem to be holding to that as strongly as FOX Flash did. --Buckimion (talk) 20:12, December 3, 2014 (UTC)