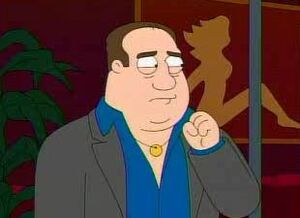 Victor is the club manager of XanaBoobs in "G-String Circus". When he is short dancers on Ladie's Night, he is impressed with Stan's build and hires him. He has Stan strip down for a demonstration he impulsively orders him to kiss him before quickly covering for himself claiming to have told Stan to begin his job. 
Victor is voiced by Rob Riggle.
Ad blocker interference detected!
Wikia is a free-to-use site that makes money from advertising. We have a modified experience for viewers using ad blockers

Wikia is not accessible if you've made further modifications. Remove the custom ad blocker rule(s) and the page will load as expected.