W-ANG Studios
Talk

0
2,519pages on
this wiki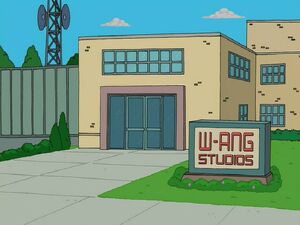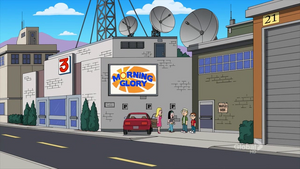 W-ANG Studios is the local channel 3 television station in Langley Falls that Stan takes over in "A Smith In The Hand". When he convinces the senate that television is responsible for masturbation, he gets to replace its programming with wholesome entertainment that he creates such as The Gentle Bearded Christian Sing-Along Hour.
Greg Corbin and Terry Bates host both Morning Glory and the evening news.
In "National Treasure 4: Baby Franny: She's Doing Well: The Hole Story", Greg and Terry mark the anniversary of the saga of "Baby Frannie" on Morning Glory, when Francine Smith fell down a well as a toddler. Despite Francine's reluctance, Hayley and Steve trick her into going to the studio for a live report but she has a nervous breakdown when it is revealed that the firefighter Henry Watkins is believed to have lost his life saving her while she feels like she has done nothing in her life.