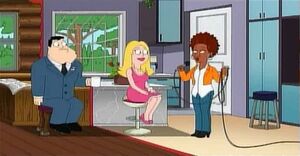 Wanda Sykes (born March 7, 1964) is an American writer, stand-up comedian and actress. She earned the 1999 Emmy Award for her writing on The Chris Rock Show. She is well known for her role as Barb on The New Adventures of Old Christine and for her appearances on HBO's Curb Your Enthusiasm. In November 2009 The Wanda Sykes Show, her own late-night talkshow, premiered on Fox, airing Saturday nights. Sykes is openly lesbian, and has two children with her wife, Alex.
when Stan tells a tired old joke to Francine in "Spring Break-Up" but fails to get a reaction, he pouts and notes that Jackson knew Wanda and her material before anyone.
In "Home Wrecker", Stan notes that Wanda will be performing at the Langley Falls Auditorium but has doubts that she call have a sell-out show. Later, he notes the Indigo Girls would be her opening act and comments that there will be a lot of softball related injuries at the show. After Stan Francine split up, Francine brings Wanda into her half of the house to try to drive out Stan.
Ad blocker interference detected!
Wikia is a free-to-use site that makes money from advertising. We have a modified experience for viewers using ad blockers

Wikia is not accessible if you've made further modifications. Remove the custom ad blocker rule(s) and the page will load as expected.