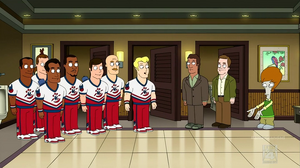 The Washington Wizards are a professional basketball team based in Washington, D.C., United States.
When Roger finds that Terry is not living up to the high-class lifestyle that he and Greg wish to have in "A Boy Named Michael", he plots in the restroom of a Chinese restaurant to kill Terry. But he discovers that not only have two other patrons overheard him, but the entire Washington Wizards Pep squad and decides to kill them as well. Armed with only six bullets in his gun, Roger instructs everyone present to wait for him to return with more bullets.
Ad blocker interference detected!
Wikia is a free-to-use site that makes money from advertising. We have a modified experience for viewers using ad blockers

Wikia is not accessible if you've made further modifications. Remove the custom ad blocker rule(s) and the page will load as expected.