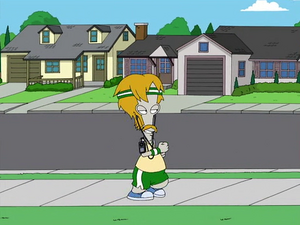 "Waterfalls" is a 1995 single by R&B trio TLC from their second album CrazySexyCool and arguably the group's signature song. The song was produced by Organized Noize and written by Marqueze Etheridge, TLC member Lisa "Left Eye" Lopes, and Organized Noize.
Roger sings "Waterfalls" in "Family Affair" until the Smith's pick him up to take him out for a meal at the Langley Falls Shopping Mall.
Lyrics
Roger: Don't go chasing waterfalls
Dance break
Please stick to the rivers
And the lakes that you're used to
Ad blocker interference detected!
Wikia is a free-to-use site that makes money from advertising. We have a modified experience for viewers using ad blockers

Wikia is not accessible if you've made further modifications. Remove the custom ad blocker rule(s) and the page will load as expected.