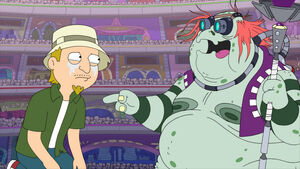 Wax Fang is an American rock band from Louisville, Kentucky that combines elements of classic, psychedelic, progressive, and experimental rock music, as well as electronic and folk. The band consists of Scott Carney and Jacob Heustis.
Mike Barker was a big fan of the band [1]
Wax Fang provided the soundtrack and score for "Lost in Space", including "Majestic".
Ad blocker interference detected!
Wikia is a free-to-use site that makes money from advertising. We have a modified experience for viewers using ad blockers

Wikia is not accessible if you've made further modifications. Remove the custom ad blocker rule(s) and the page will load as expected.