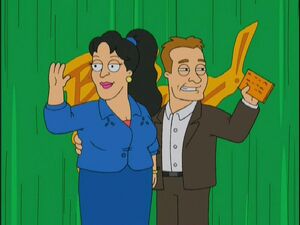 Wendie Jo Sperber (September 15, 1958 – November 29, 2005) was an American actress, best known for her performances in the films I Wanna Hold Your Hand, Bachelor Party and Back to the Future as well as the television sitcom Bosom Buddies.

Wendie Jo Sperber appears with Peter Scolari as themselves as hosts of the show Best Buddiez! in "Roger 'n' Me". This was her last role before passing.
Ad blocker interference detected!
Wikia is a free-to-use site that makes money from advertising. We have a modified experience for viewers using ad blockers

Wikia is not accessible if you've made further modifications. Remove the custom ad blocker rule(s) and the page will load as expected.