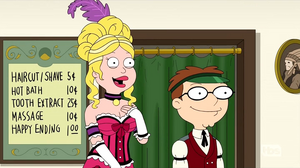 Although the episode takes the show out of its usual context, Roger's amazing speed is a callback to "Jenny Fromdabloc".
A sign in Brian's barbershop offers "happy endings" for $1.00. A "happy ending" is traditionally being masturbated following a massage.[1]
Stan's outfit is an exact copy of his 'Black Stan' costume from "Familyland".
The flag used in the opening credits has only 13 stars, which was only used up until 1795. However, the story is set much later, after the Civil War, and so should have at least 36 stars.
Ad blocker interference detected!
Wikia is a free-to-use site that makes money from advertising. We have a modified experience for viewers using ad blockers

Wikia is not accessible if you've made further modifications. Remove the custom ad blocker rule(s) and the page will load as expected.