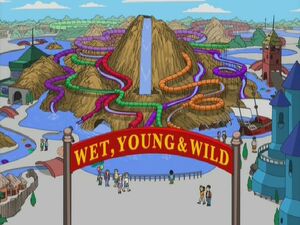 Wet, Young & Wild is a water park near Langley Falls.
When his CIA buddies find out Stan is a killing virgin in "42-Year-Old Virgin", Stan passes on several candidates including Randy, a pedophile that announces he just moved into the neighborhood. Despite Randy describing in detail his crimes while an employee at Wet, Young & Wild, Stan is preoccupied and pays no attention. When Steve and his friends are befriended by Randy and has immediately sought to resume his old ways by kidnapping Steve and his friends. When Stan finds out Steve has been taken by pedophile Randy to his secret hideout behind the waterfall at the water park, he tries to rush in to save the boys but is delayed by not wanting to pay full price admission. The gate attendant tells him he can get a half-price discount with a soda can so he rushes out to Jansen's Mini Mart he returns with the can but the attendant makes him drink the soda first. Ray and Bad Larry arrive and get in by flashing their CIA IDs to Stan's chagrin. Roger gets in by just flashing his empty designer wallet. Stan finds Randy and he gives up without a fight. When Randy brags that he'll get off due to his mother's money and a good lawyer, Stan tries to shoot Randy and ends up killing Bad Larry, getting his very first kill.
Steve and Roger play a prank on Klaus by sending him down a water slide in the off-season in "Surro-Gate". In return, Klaus pledges to extract revenge which causes the pair to go to extremes to avoid him.
Ad blocker interference detected!
Wikia is a free-to-use site that makes money from advertising. We have a modified experience for viewers using ad blockers

Wikia is not accessible if you've made further modifications. Remove the custom ad blocker rule(s) and the page will load as expected.