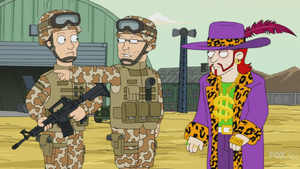 White James is a former art student turned pimp that Klaus sends to Iraq to retrieve Roger so he may help the family after Klaus manages to get them to turn against each other in "Dr. Klaustus". after Roger suffers a trauma, he refuses to go back despite Klaus traveling with James in his clear acrylic "moon boots" and trying to talk to Roger. Klaus later gets to pick one of his whores as a reward for helping the family, only to be left unfulfilled by his fish body.
Ad blocker interference detected!
Wikia is a free-to-use site that makes money from advertising. We have a modified experience for viewers using ad blockers

Wikia is not accessible if you've made further modifications. Remove the custom ad blocker rule(s) and the page will load as expected.