Driver: No I'm an Uber driver you hired a few days ago when you were drunk.
Roger: Uber X?
Driver: Uber Black.
Roger: Oh my God, Oh my God I'm ruined!
---
Roger: Did I just tell everyone I'm an Alien?
---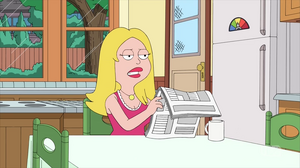 Francine: [to Steve] Now you're just dangerously close to me calling you a pussy.
---
Roger: Name's Roger. I'm female. My second husband's name was Eric, and as it turned out, he died by my own hand.
---
Lewis: [As Steve shows off his "wrestling belt"] That's why it's going to me, Brian "The Home Invader" Lewis.