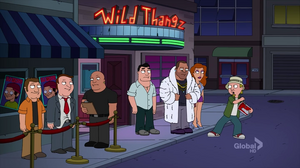 Wild Thangz is a nightclub where Jeff Fischer had a falling-out with his imaginary friend Phillip in "Naked to the Limit, One More Time".
After splashing an exiting patron wearing a fur coat with red paint and decrying him for wearing fur, Jeff runs back to his car where he expects Phillip to be a getaway driver. When noting happens and Jeff is upset that Phillip won't leave, the tough guy that was wearing the coat smashes through Jeff's car window and tears him in two.
Ad blocker interference detected!
Wikia is a free-to-use site that makes money from advertising. We have a modified experience for viewers using ad blockers

Wikia is not accessible if you've made further modifications. Remove the custom ad blocker rule(s) and the page will load as expected.