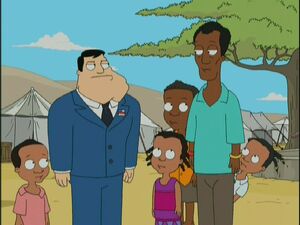 Wobuto Kowonga Kamaili, or as Stan calls him 'Hot Rod', is a member of the refugee camp that Stan decides to turn into a summer camp in "Camp Refoogee". He appears to be acting spokesperson for the camp and takes it upon himself to try to explain things to Stan, which Stan twists into his own reality.
"Hot Rod" is voiced by Romany Malco.
Ad blocker interference detected!
Wikia is a free-to-use site that makes money from advertising. We have a modified experience for viewers using ad blockers

Wikia is not accessible if you've made further modifications. Remove the custom ad blocker rule(s) and the page will load as expected.